Treats & Purifies
Skin Hero Duo Set
15ml of love
95% ingredients of natural origin
Description
Your heroes to fight (with kindness) spots and blackheads !
What does this wonder do ?
This duo of heroes is designed to fight (with kindness) spots and blackheads that dare to settle a little too long on your sweet face. Bye bye unwanted visitors!
What is in it ?
A pimple treatment to dry out, treat and visibly reduce pimples.

A blackhead remover to clear clogged pores and blackheads.
Why is it amazing ?
Salicylic acid helps to fight the bacteria responsible for spots.

Niacinamide (vitamin B3) is anti-inflammatory, soothing and moisturizing.

Hemp oil regenerates, revitalizes and firms the skin.

Aloe vera has softening and moisturizing properties for the skin.
Magical results :
Visibly reduces spots and blackheads


Scent :
A light, addictive scent inspired by nature... Green vegetal notes and a floral scent reminiscent of roses and the aromatic facets of citrus.
Benefits
Purified spots and blackheads
Magical, non-greasy gel texture
Formula 95% natural origin
Vegan and Made in France
How to use it

Take a hot shower or steam bath to open your pores. Gently press one of the heads of the trouble remover on your blackheads and whiteheads to extract them.

On clean skin, apply a thin layer of the product on your spots 1 to 3 times a day until they disappear!

The team's tips

Don't forget to disinfect your trouble remover between uses !
Our magic ingredients
Salicylic acid is a powerful anti-bacterial agent.
Niacinamide (vitamin B3) is anti-inflammatory, soothing and moisturizing.
Rich in vitamins, minerals and amino acids, aloe vera has softening and moisturizing properties.
It helps to reduce dehydration, regenerate, revitalize and firm the skin.
We explain everything about our ingredients
safe synthetic ingredient (synthetic ingredient said to be safe and healthy for your health and proven to be effective)
Aloe Barbadensis Leaf Juice
Hydratants sélectionnés parce qu'ils rendent la peau plus douce qu'un bébé licorne
L'eau sert de solvant, c'est-à-dire qu'elle sert à diluer la formule. (Et comme dit ton oncle écolo: «l'eau c'est la vie !»)
Il aide à ralentir la croissance de micro-organismes sur la peau, procure une sensation de fraîcheur et possède des propriétés astringentes
Extrait du maïs ou de la canne à sucre, il sert de solvant pour faciliter la dispersion des ingrédients et en plus, il est également reconnu pour ses propriétés humectantes sur la peau, tout bénef !
Polyacrylate Crosspolymer-6
Cet ingrédient améliore la stabilité et la durée de conservation de l'émulsion
Puissant actif cosmétique, elle lisse ta peau, l'apaise, l'hydrate et rend le teint uniforme… tu l'auras compris c'est ton nouveau couteau Suisse favoris
Véritable actif SOS, l'acide salicylique permet de lutter contre les bactéries responsables des boutons, il diminue les imperfections par exfoliation, désincruste et affine le grain de peau
Dérivé de zinc assimilable par la peau, c'est un puissant sébo-régulateur réputé pour ses propriétés antibactériennes et astringentes, qui ré-équilibre visiblement la peau du visage
Emolliente, c'est une huile végétale chargée d'acides gras nourrissants bons pour ta peau (et légale en plus !)
Parfum/Fragrance / Hexyl Cinnamal / Linalool
Ça, c'est le parfum de la Gelée Hydratante et les ingrédients liés à la composition du parfum ; les ingrédients que nos nez ont sélectionnés pour évoquer un doux parfum vert, naturel, bon pour ta peau
Ajuste le pH de notre gelée (comme dans les cours de Mr Albert, ton prof de chimie)
Colorants qui donnent sa couleur pastel à notre gel (on a sélectionné les plus belles couleurs de l'arc-en-ciel)
Frequent questions
Ce soin bouton est-il naturel ?
Notre soin boutons est naturel à 95%, Vegan, Cruelty free et Made in France.
Y'a-t-il des silicones dans le soin bouton ?
Non. Les silicones ont une structure chimique qui ne permet pas de pénétrer dans l'épiderme. Alors certes, ils vont te faire une peau toute douce, mais il ne s'agira que d'une couche en surface, qui au contraire peut avoir des effets néfastes, comme par exemple empêcher en partie à la peau de respirer. 🥵
Nos formules sont donc sans silicones, mais également sans parabènes, et sans huiles minérales, mais avec 100% d'amour 💕
Avis des clients
Écrire un Avis
Poser une question
20/06/2023
Satine R.

France
Merci Merci Merci Handy
Très bons produits, excellents services
14/06/2023
Sonia

Spain
Muy bueno
Un producto espectacular, con muy poca cantidad cubde mucho. Limpia perfectamente y con la herramienta que trae se hace muy facil la extracción. Si sois de espinillas y puntos negros este es vuestro producto
12/06/2023
Julia

Spain
Funciona
Este combo es perfecto para limpiar los poros, puntos negros y evitar granitos. Cumple al 100% con lo que dice, si tienes un granito, ponte el gel de 1 a 3 veces al día, y al día siguiente casi no lo verás. A mi me ha encantado.
11/06/2023
Susana L.

Spain
¡Un dúo increíble!
Me encantan estos productos para combatir manchas y puntos negros de Merci Handy. Después de tomar una ducha para abrir poros presiono suavemente una de las cabezas del removedor sobre el punto ***** para extraerlo. Y a continuación, aplico una capa delgada de la crema hidrante con Aloe Vera, su textura ligera se absorbe rápido y tiene un aroma muy rico y adictivo. ¡Genial!
10/06/2023
Oceane L.

France
Produit merci Handy
Très bien cela marche j'ai été choqué du résultat merci beaucoup
09/06/2023
Donatella

Italy
Perfetto!
Ho usato il gel su un brufoletto che mi era appena spuntato sul mento. Ne ho applicato una piccola quantità e lasciato agire tutta la notte: il giorno dopo si era già seccato senza lasciare la macchia. Sono soddisfatta? Ovvio!
08/06/2023
sara

Italy
ottimo
Questo prodotto è semplicemente fantastico per chiunque cerchi una soluzione efficace per migliorare l'aspetto della propria pelle. Le sue caratteristiche lo rendono davvero unico e meraviglioso. L'acido salicilico è un vero alleato nella lotta contro i batteri che causano le macchie. Ho notato un netto miglioramento nella mia pelle dopo aver iniziato ad utilizzare questo prodotto. Le macchie e i punti neri sono visibilmente ridotti. La niacinamide, con la sua azione antinfiammatoria e lenitiva, ha contribuito a calmare la mia pelle irritata. Ha anche fornito un'idratazione profonda, lasciando la mia pelle morbida e luminosa. L'olio di canapa è stato davvero una sorpresa piacevole. Ha rigenerato e rivitalizzato la mia pelle, donandole un aspetto più sano e radioso. Inoltre, ho notato che ha contribuito a rassodare la mia pelle, riducendo la visibilità delle linee sottili. L'aloe vera è un ingrediente che amo per le sue proprietà idratanti e ammorbidenti. La mia pelle si sente fresca, idratata e rinvigorita dopo l'applicazione di questo prodotto. In conclusione, i risultati che ho ottenuto con questo prodotto sono semplicemente magici. Le macchie e i punti neri sono visibilmente ridotti, la pelle è più luminosa e idratata. Lo consiglio vivamente a chiunque cerchi una soluzione efficace per una pelle impeccabile.
08/06/2023
Roberta

Italy
Super soddisfatta
Ho provato entrambi per diversi giorni e mi ci sono trovata benissimo. I risultati sono visibili in pochissimo tempo ed il profumo, lievemente floreale, mi piace molto! Sono davvero super soddisfatta ❤
07/06/2023
Deniza

Spain
Very easy to use and useful!
Truly loved the product. After a hot bath, it was super easy to take out my black spots from the face, and doing it once a week has helped my skin enormously. Also i have been putting the cream on my red acne dots and some big black spots and they almost vanished within a few days! It was very easy to use and make sure to desinfect the product after using. Loved it and would recommend!
04/06/2023
Prisciladerosa

Italy
Duo top
Duo top, prodotti di qualità veramente, perfetti insieme! Io li sto testando e mi sto trovando bene, il prodotto ha una profumazione floreale stupenda per combattere le macchie dei brufoli e i punti neri
02/06/2023
Emy

Italy
01/06/2023
Elisa D.

Spain
Un dúo de héroes
Lo he comprado para mi hija, una adolescente de 16 años con una linda piel pero lamentablemente propensa a la aparición de granos y puntos negros. Sus ingredientes son sensacionales, su textura y fluidez facilitan su aplicación, su aroma que mezcla lo cítrico con lo floral hace que sea maravilloso aplicarlo en el rostro, además de ser una crema totalmente discreta. Los resultados le están encantando a mi hija.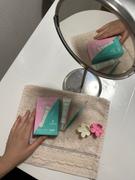 30/05/2023
paola

Italy
Ottimo!
Ho usato il prodotto diverse volte, l'ho applicato anche sui punti bianchi di mio nipote adolescente e funziona alla grande! secca benissimo i brufoli infiammati! L'attrezzo l'ho usato solo per i punti neri perché io per abitudine non schiaccio mai i punti bianchi.
30/05/2023
Daidone P.

Italy
Ottimo
Sto testando questo prodotto da alcuni giorni e devo dire che è veramente valido..Applicato più volte al giorno in pochi giorni va a rimuovere il brufolo ovviamente come tutti i prodotti bisogna avere costanza ma funziona
29/05/2023
Gemma G.

Spain
Acierto 100%
Este producto me ha encantado y me ha sorprendido para bien. La cremita es súper hidratante (ya que lleva entre otros aloe Vera) y prepara la piel perfectamente. El removedor es mejor usarlo después de la ducha, para que los poros se abran y sea más fácil eliminarlos.
Top
All our ingredients
Aqua/Water/Eau, Alcohol Denat., Pentylene Glycol, Glycerin, Aloe Barbadensis Leaf Juice, Polyacrylate Crosspolymer-6, Niacinamide, Salicylic Acid, Xanthan Gum, Cannabis Sativa Seed Oil, Zinc Gluconate, Scutellaria Baicalensis Root Extract, Sodium Hydroxide, Citric Acid, Parfum/Fragrance, Hexyl Cinnamal, Linalool, Allantoin, CI 42090 (Blue 1).
soin du visage
Skin Hero Duo Set